Above and beyond for today and tomorrow.
We believe the proper recycling and disposal of hazardous waste is one of the most important things we can do to protect the world around us. While government regulations make environmental conservation a priority for all recycling companies, our dedication to maintaining and restoring clean air, clean water and clean soil makes us an industry leader in providing quality environmental protection services.
For almost 50 years, World Oil Environmental Services has been providing sustainable solutions for hazardous waste. We collect waste oil and antifreeze from over 12,000 customers for disposal at the World Oil Recycling facility in Compton, the largest petroleum recycling facility in the western United States. With a fleet that includes vacuum trucks, roll-off trailers and hazardous waste vehicles, we are the largest company of our kind in California. And we are currently expanding our services beyond California, into AZ, NV and NM.

Check out our Oil Filter Disposal Guidelines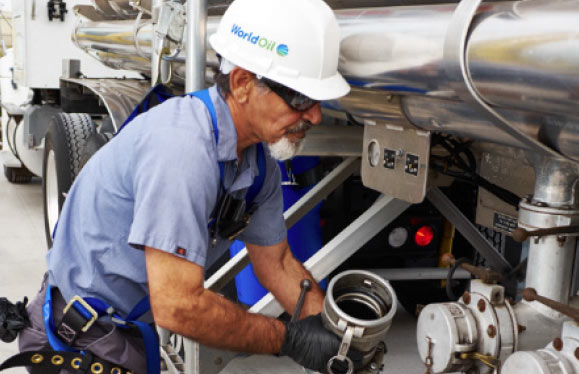 Our expertise and quality services make recycling and disposing waste or preventing storm water from contaminating our waters cost-effective as well as rewarding for our customers.